SANITARY BINS BRISBANE

FEMININE HYGIENE SERVICES
Our women's sanitary bins are sleek and slimline in design, sturdy and allow for easy disposal of women's sanitary waste.
Slimline to easily suit all size cubicles
Manually operated lid design that allows for easy disposal of napkins and tampons
Contain granules which destroy infectious germs and eliminates unpleasant odours
Perfumed, anti-bacterial high density bin liners which deliver a pleasant fragrance
Two sizes are available 23 litre or 15 litre mini sanitary bin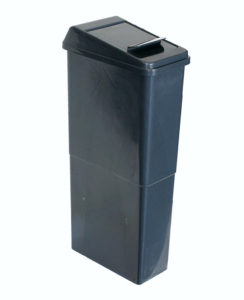 ---
SANITARY BIN INSTALLATION & SERVICING

We offer a professional and discreet regular service schedule to ensure your sanitary bins are kept at the highest standards of hygiene for your employees and customers.
At the time of service, we remove contents, thoroughly clean and sanitise the sanitary bin and install a new perfumed, high-density anti-bacterial bin liner.